Mancora Beach and Existentialism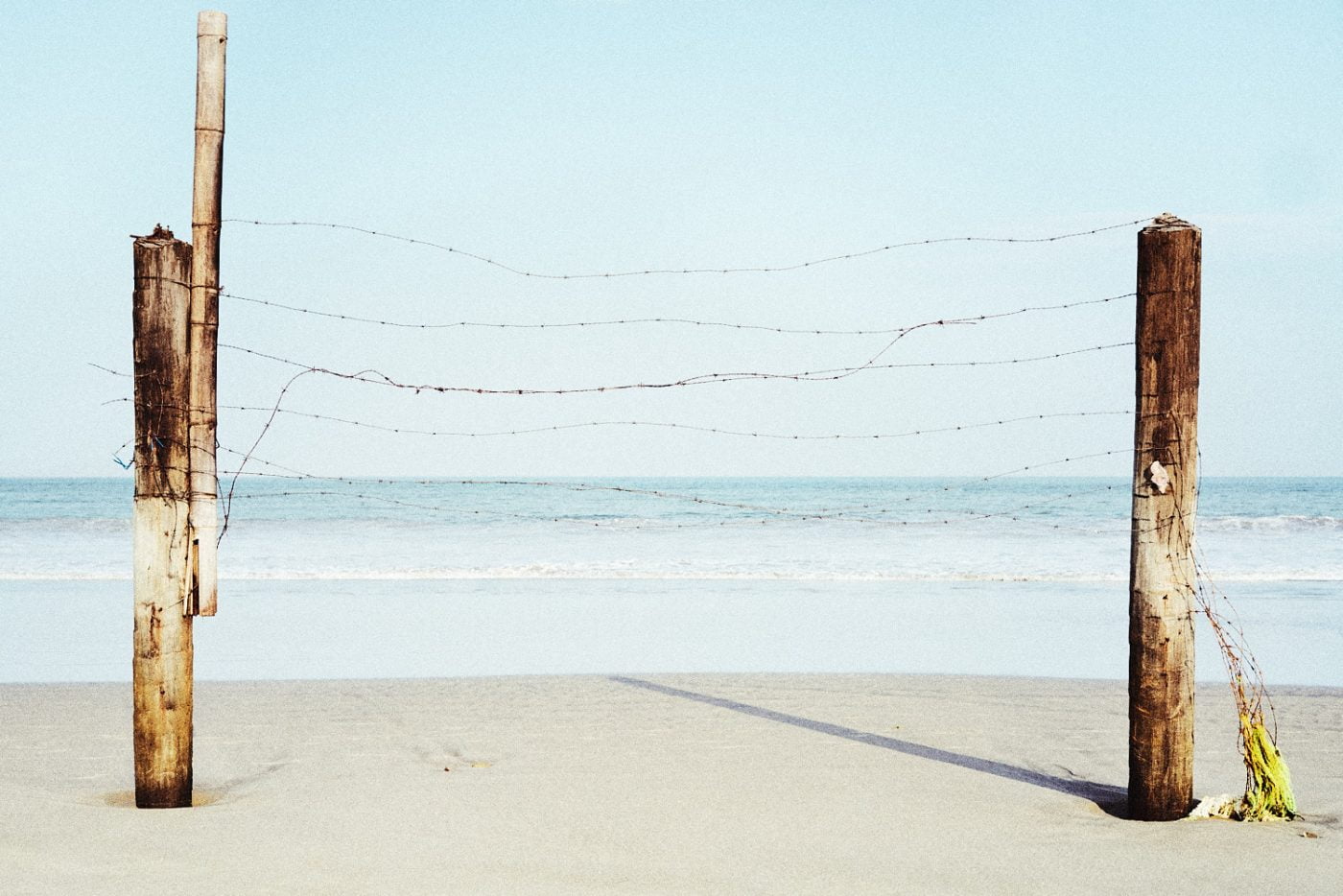 After having been on the road for over a month and with my birthday looming, I decided to check out and head off to a beach for some well-deserved R & R. I'd heard good things about Máncora up in the far north of Peru and booked myself a flight from Arequipa to Piura. It's all well and good roughing it on overnight buses for a while but every now and then you've got to treat yourself to a creature comfort or two.
Arriving in Piura airport in the evening, I took a short taxi ride to the bus terminal and quickly decided to hop on to one of the minivans parked round the corner that drive straight to Máncora. It doesn't take me long to go from the luxury of flight to roughing it again. Here's a link to a discussion on how to get from Piura to Máncora that gives you most of the information you need to know… The short of it is that you can either take a taxi direct from the airport (worth it if you have the money and / or the people to share the costs), take a bus from the bus terminal (the cheapest option and is what I did on the way back from Máncora to Piura, and worked out great), or use the crapped-out minivans that ply their trade alongside the bus terminal (what I chose because no bus was leaving for a while but it took about an hour for the driver to find enough passengers before he would set off).
At Máncora, I jumped out in the town centre (it's a small town, so it's pretty much right there as soon as you enter) and hopped into a cheap mototaxi to take me to my accommodation, the AquamarInn. I'd found the place the evening before online and wasn't sure what to expect; it was close to midnight when I arrived and was greeted warmly by the owner who showed me to my room. I don't know how some places get their reputation but I soon discovered that Máncora itself is not much more than a drive-thru town, with the Pan-American highway as its heaving high street full of bars and restaurants, and one main pedestrian walkway leading to the beachfront, also full of bars and restaurants. There are several hostels in the centre catering to a young party crowd and plenty of other accommodation heading out further along the beach, getting progressively more chilled out the further you go.
AquamarInn was about a 10-15 mins walk along the beachfront from the centre and was run a by a lovely young Russian couple. The rooms are built around a beautifully maintained courtyard / garden, with hammocks and chairs scattered around, and a breakfast area to the side serving a lovely breakfast. It turned out that I'd booked myself a perfect little oasis. The room I had was part of a group of about five rooms adjoining each other built of bamboo, with a raised roof and mosquito netting allowing the heat to escape and the sea breeze to enter. The design was so simple and effective that all that was needed was a small fan to circulate the air and I was able to remain cool even during my siestas in the middle of the day. If noise from the adjoining rooms is something that bothers you, the other side of the courtyard has rooms constructed of more permanent materials. For me, I fell in love with the little space I had, its comfortable single bed with room for a fan at its base; the shower and toilet behind me, separated by a shower curtain. If I were ever to build my own beach shack, I'd copy this design.
Having spent a lot of my childhood on a beach, I'm immediately comfortable by the sea and the big waves crashing in off the Pacific just put an even bigger smile on my face. Máncora beach goes on for kilometres and disappears off into the distance, further than I ever needed to go to find some peace and quiet. Seeing as I also decided to take time off from my camera, I've had to grab this screenshot from Lonely Planet to give you some idea of what the beach is like…
Looking at the photo, AquamarInn is about 300 metres off to the left on a street running parallel to the beach, the town centre is about 1 Km straight ahead, and the beach continues directly behind away into the distance. The shack you see on the left is one of many places that is just about surviving the pummelling it receives daily from the waves, as are all the places built that close to the water. I'm not sure if it was because of the strong El Niño this year or because of bad town planning, but all the waterfront properties were having to fortify themselves with sandbags to try and stop being overrun and some had had to give up and admit defeat, leaving behind shells on land that the sea was in a hurry to reclaim. At high tide, you needed to time your walk into town along the beach with care. By the time I left, the moon was full and even I was too nervous to try body surfing, with the waves so angry.
Every morning I'd wake soon after sunrise, head to the beach for a refreshing bodysurf before breakfast, then get online or read my e-book in the nearest hammock till lunchtime. AquamarInn had recommended Los Delfines as the best place in town to eat fresh fish at a good price and they were so right. Even though it's bang in the centre of the tourist strip, after my first ceviche there, I never went anywhere else, it's that good. And try their 'chupes', you won't regret it. Máncora is also the place where I tried my first pisco maracuyá and I thought it wasn't possible to improve on a pisco sour. All I can say is that when you hear the sound of the surf, it's time to swap over to pisco maracuyá for your pre-dinner drink. After dinner, you may want to try something a little less strong, unless you're looking for an early night!
I had a great time in Máncora, replenishing my batteries before the next stage of my journey. I'd say it's more geared to a much younger crowd but I have enough of a beach bum left inside of me to not care and just go off to do my own thing. I took some surfing lessons and was out there with a board on my birthday. It was actually my 50th birthday, which goes some way to explaining why I found myself far from my home and family back in Helsinki (also explains the name 'From HEL and Back'). The easy option would have been to organise a party surrounded by my nearest and dearest. But I was born in Buenos Aires and grew up in Lima and I'd not been back to South America since the family left when I was 17. Turning 50 and staring mortality from that little bit closer, if not quite in the face, seemed like the perfect opportunity to be selfish and do what I wanted to do. Luckily, I have the most self-assured wife and mother to my children, who never once questioned my decision and understood completely the romantic notion of going back to my roots whilst ruminating on the meaning of life. The fact that I ended up getting stitches in my scalp from someone's surfboard on my birthday may be part of some karmic retribution but it just made me laugh at the absurdity of it all.
The only photos I took when in Máncora where early on the morning of my birthday. I'd seen the posts with the barbed wire days earlier and it felt like they captured perfectly the condition of my existential angst as I approach my later years. I'd like to think that I'm wise enough to just walk round the posts and not bother with the barbed complications that life has to throw at you. Let's see what happens…