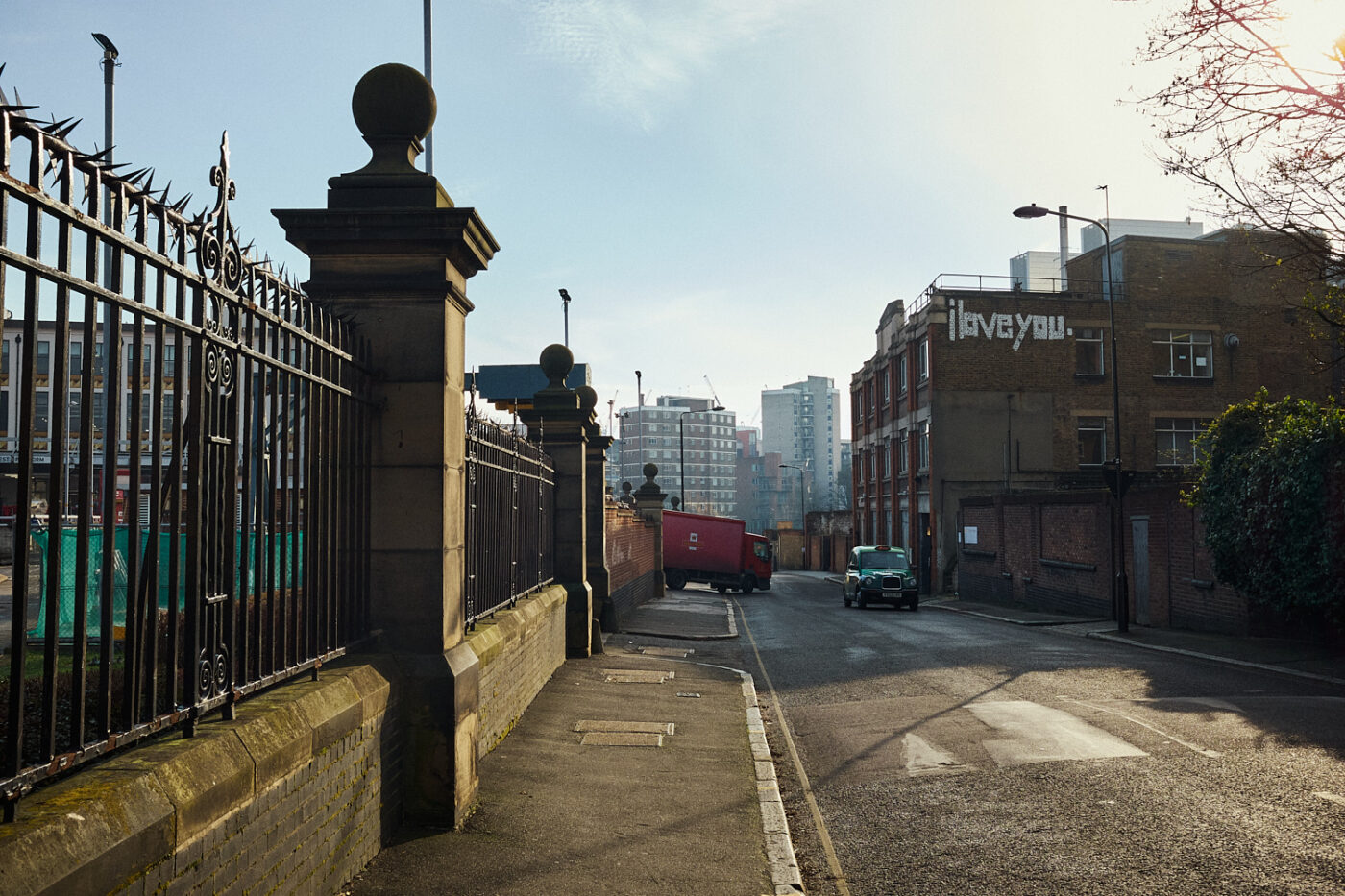 Fuji X100S : f/11@250th : ISO 640 
Just booked my ticket back to London, so I thought this shot from 2015 sums up my excitement, with the words 'I Love You' graffitied loud and proud on the side of a building. The spot is actually round the back of Mount Pleasant Post Office in Farringdon, a couple of streets away from where my mum lives, so I walked passed this plaintive cry many times. Mount Pleasant has been a huge central hub for the Post Office since the 1930's but I'm not surprised to learn that a large part of the 12 acre site has been redeveloped (a prime location, with the land sale providing easy money for the privatised Post Office). I presume you can still see their delivery vans coming in and out all the time and black cabs have always used those backstreets to cut through on their way to King's Cross.
To be honest, I added the black cab from the previous frame I took there, just to have that little extra London feel going on; a bit of artistic licence and easy to achieve. The look was all done within Capture One, before processing the two raw files as 16 bit tiffs, combining them into a single image, then reimporting into C1 to add the final grain and sharpening. It's been a few years since I invested in a range of colour styles from the site Alex on Raw and I would say that I use them on virtually every image. I create a few variants with different styles until I decide on the final look, then start to mess about with layers and masks. I'm not sure if it's just my memory playing tricks on me, as C1 has always done a very good job with the Fujifilm files, but I have to admit that I am even more impressed with how well these files perform. The Fujifilm X100S was a camera that rekindled my love of what I loosely call Point & Shoot photography and I still have a pang of regret that I ended up selling it. It took me away from my work as a commercial photographer, sending me down the path for what I see now as my particular art of photography.
Heading back to London always brings back so many memories, considering that it is where I went to university, where I began my photography career as an assistant, where I first lived with the remarkable Anitta (future wife, mother to our children, boss lady…), before heading to Helsinki to raise our young family in a more wholesome / less chaotic environment. Now, once again, London has become my home and I am looking forward to seeing what new experiences this vast city will have to offer. And seeing my mum a lot more! What's not to Love!
Tim Maher
November 4, 2022