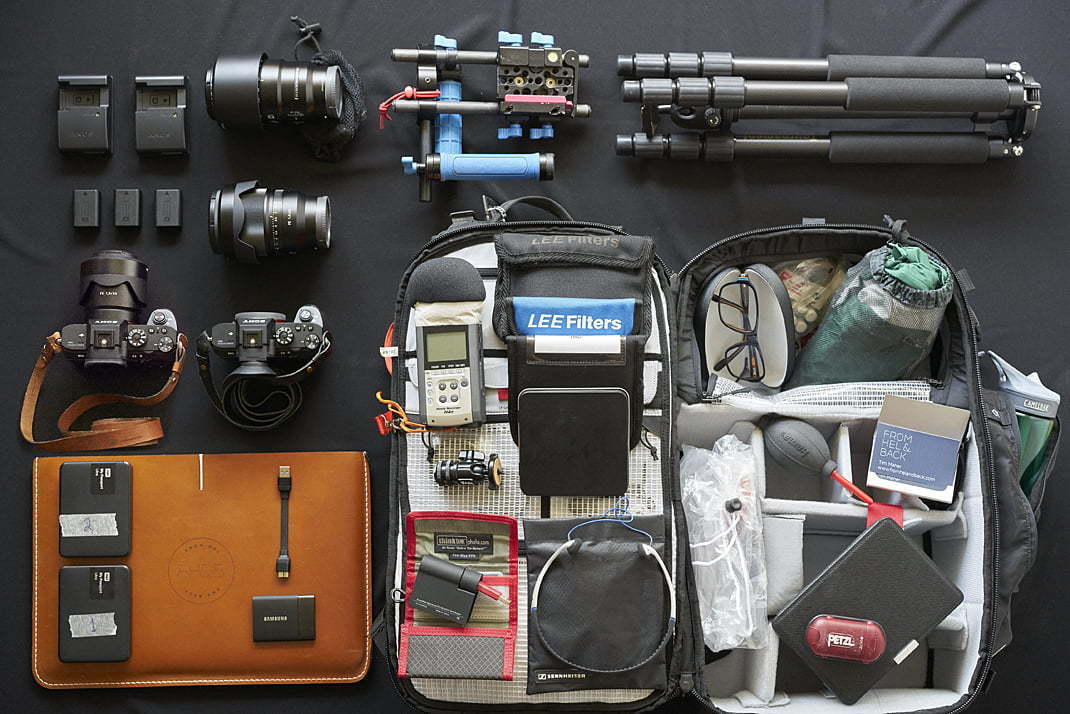 I meant to get this post done in the studio before I set off but life got in the way sorting out all the last minute details and I ran out of time. I've been on the road now for a couple of weeks and am a little wiser, at least in regards to my gear, but still finding it hard not to run out of time. Without wanting to sound too pleased with myself, it looks like I, Tim Maher, did a pretty awesome job deciding on what to take and what to leave behind. I had wanted to bring some more of my sound gear with me but I just didn't have the space. It didn't stop me packing and unpacking my gear several more times in my final two days, before I admitted that something had to be left behind if I was going to function as a single unit for two months. Deciding it would be better if it was the sound quality that suffered, rather than the visual, or my creaking spine, was the easy part.
Getting this shot of the gear done was a little tricky. It involved me balancing on two stools, my hands pressed against the ceiling with the camera, trying to frame the gear properly that I'd placed on the floor of my AirBnB apartment in Santiago, Chile. For a handheld shot in low light, it could have been a lot worse! Add the fact that these are the only two camera bodies I have with me, so, yes, I did have to do some basic Photoshop work to get the picture finished. Needs must, and no legs were broken!
First up, the cameras and the lenses… I've been a Canon digital shooter since the early 2000's and had bought into the system quite seriously over the years. The obvious option for this trip would have been to buy the latest 5DsR and take the 5D Mk3 as a spare. Considering that I shoot most of my work in the studio, this would still seem the best longterm solution. Why, then, did I choose to sell all my Canon gear and invest in an all-new Sony system? Well, mainly because of the well-known phenomenon known as 'the Imp of the Perverse', which is when you can see the obvious solution to a given situation but are unable to stop yourself taking the more awkward option.
There were so many things that were going to be different on this trip – shooting on the road for two months; not having control over my lighting; working alone and not part of a creative team… It seemed to me like the perfect time to throw everything out and check out a new camera system as well. I would have needed to upgrade some of my Canon glass to the Mark II versions anyway, just to be able to resolve the detail coming off these new sensors. I'd been following the development of the Sony A7 series since the first generation had come out and stirred up the 'Canikon' status quo. The quality of the sensor was not in doubt. The sensor on the Sony system continues to be that much more advanced than Canon's, with more dynamic range, mainly from its ability to push cleanly out of the shadows, and cleaner high ISO.
When I heard that the second generation Sony A7R had resolved some of the issues that were found in the original, namely by dampening the shutter mechanism and including a first curtain shutter, it seems that there was very little to hold me back. The focusing was at a professional level, offering some great tracking options when using native glass (face and eye recognition in a fashion shoot, anyone?). I also knew that Phase One had teamed up with Sony to get their Capture One software working seamlessly with the Sony system. Capture One has been part of my workflow for many years. If the Sony A7RII can be made to also handle a studio environment, then there is no real reason why it can't become my main camera for both paid and personal work. And I haven't even mentioned the video capabilities, the internal 4k, the 5-axis stabilisation, the very clean super 35mm format… This camera is a beast!
Sony Alpha 7R II 
So, here I am in sunny Córdoba, Argentina, with my Sony A7RII. I talked a little more about why I chose the camera in this post here and I talked about my settings in this post here. Now that I've been on the road with it for a couple of weeks, my fingers work in sync with my mind and I'm able to make quick adjustments. I like how you can set up the camera to suit your own shooting needs, with the custom and function buttons, and it's rare that I need to go into the menu layout (this is a good thing as the menu layouts are varied and plentiful). I've got used to having the focus button separated from the shutter release, under my thumb on the back. I like having AEL set to half-press on the shutter button; the auto ISO parameters, with quick access in functions to setting the min-max shutter speed… All's working very smoothly. And then there's what is coming off the camera, the quality of the raw files is quite stunning, leaving what I was getting from my previous 5D MkIII way behind. Re my shooting on the road, the fact that I know I can underexpose and push cleanly out of the shadows means that I am able to capture more dynamic range in a single frame, when the need arises. Most of the time, it doesn't. That, for me, is still the main benefit in choosing the Sony camera and I'm in a position to give it a go. Yes, the high ISO's are cleaner for longer, but there are other things you need to consider, like whether you can work with an EVF for long shoots. I shot with it in the studio for a week and had no problem. Sure, it's different, but that's ok. What I am missing is the ability to not stand out too much when out and about. I owned the Fuji X100S and got a lot of creative satisfaction from having a camera with a great image with me at all times. It brought back happy memories of why I started taking pictures and has probably played a part in why I'm alone half way round the world. With the Sony A7RII, I only have the top-of-the-range primes and none of them are particularly discreet. Say, when I go out in the evening, sometimes I just want something less in your face. One of my tasks when I return to Helsinki will be to find a lens that doesn't stand out too much. It may be as simple as getting the older FE 35mm f/2.8, to use as a walkabout lens. I'll have to look around. Another useful thing would have been to have a protective cover on the LCD screen. The glass may be strong but, when you're travelling and using the camera roughly, you need a cover. I already have scratches on it and it's early days. Apart from that, I'm very much loving the quality that shines through the whole package. It is a very, very good camera.
Sony Alpha 7S II
The advantage of being a professional photographer is that you can sometimes get access to gear that adds that little bit extra to your shooting options. When Studio Varustamo heard that I was disappearing for two months to South America, they made it very clear that they would be happy for me to try out the Sony A7SII on this trip. I've known them for many years and have great relationship with them. I bought the A7RII from them and they have kindly provided me with the A7SII. I have used it to shoot video of the Recoleta cemetery in Buenos Aires, in the rain; I have filmed the Perito Moreno glacier in Patagonia, where I waited patiently and successfully for a large chunk of ice to tumble down into the water. And I used it extensively on my trek to get up close to Mount Fitz Roy in El Chaltén. I haven't had the time to do much with the footage so can't give a particularly well-informed opinion. I can say that I have set the camera up differently than on the A7RII, bringing peaking and zebras within easy access to the C1 and C2 buttons; C3 is now the Focus Mode; Face Recognition has moved to one of the Function settings, since I am more likely to be in Manual focus mode as a rule. When in Manual focus, the AF/MF button is set to AF/MF Control Hold, so that I can quickly autofocus if needed. I've also reset to On the 'AF with shutter', so that I can focus quickly in AF mode. C4 remains the Steadyshot on/off shortcut. Focussing quickly in manual mode is easy with the Center Button set to Focus Settings so you can quickly access a magnified view… Again, it all works very intuitively once you have it set up to how you want it. If it's not working smoothly for you, it's more likely that you haven't set it up properly for your working needs. With the footage I have seen, I quickly realised that there is very little room for bad working practices. It's the same with the A7RII. If you're going to work with a system that delivers such high resolution, then you better make sure that you work with it properly. It is unforgiving. Forgetting to switch off 'Steadyshot' when on a tripod is an amateurish mistake which I won't be doing again as it does affect the image captured. Handholding in the great outdoors, when there is a lot of detail going on in the image (trees, grass etc) can be difficult to achieve as any camera movement can appear a little 'jerky' when trying to hold all that detail… Apart from that, get your focus right and you'll get a fantastic image. I tend to keep the PP off and the Creative style set to Neutral, taking down the sharpness a little in capture. I like how it looks and am happy enough not to be working in S-log. I know that it means I may not have the widest dynamic range available but, again, that's okay. I'm happy with the amount I have and am not shooting anything cinematic, more 'emotimatic', if I can have that for a word! Before coming away on this trip, I shot a video with the FE PZ 28-135mm lens. Now there's a lens that works like a dream with the A7SII. If you're mainly shooting video, this is a great combo. Add the 16-35mm f/4, and away you go. Very few shots when shooting for a more filmic look are going to be wider than f/4 as, in my eyes, the extreme shallow depth of field begins to look too unnatural. It's a personal thing.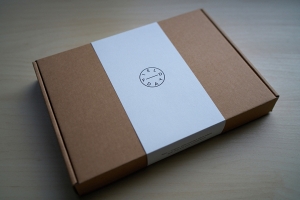 Field Day Leather Straps and Laptop Sleeve (direct from Field Day)
If you're going to get yourself a new camera system, it is absolutely not essential to get yourself beautiful leather straps and a leather laptop sleeve with your logo lasercut into it. But, man, I feel good having done it. I've had those leather straps for three weeks now; the leather has softened nicely; it sits across my shoulder's just right; doesn't get stuck on my clothing; and slips into position right at my eyeline in one smooth action. They may look good but, more importantly, they do the job I want them too. If I'm walking around on the street, I wrap the strap around my wrist a couple of times and keep the camera by my side, ready to go. And every time I pull out my laptop, I get a smile on my face. Luxury, mixed with good design, has its place.
Sony FE 35mm f/1.4 ZA (from Studio Varustamo)
There are no two ways about it, this lens was designed to be a high-end professional piece of equipment. It is big, it is solid, and it is magnificent. I'd be hard pressed to find anything to fault with it. It is very sharp, it has a very pleasing bokeh, its min. focus is 0.30m, the auto focus is fast, the manual focus ring is firm to the touch. If you are going to use the A7RII, with a sensor capable of resolving the amount that it does, you should not really be thinking about using anything but the best glass you can afford. If you can afford this lens, buy it. If you can not afford this lens, start saving. There are other options, with the Sigma 35mm Art jumping to mind. The Sigma Art series are developing into a very impressive collection of 'affordable' lenses and there is no doubt you'll get impressive results from them. Bokeh would be the main discussion between the two lenses for those who like to argue but, at the end of the day, having a native lens that can make full use of all the functions available in its relationship to the camera adds that little bit more to the shooting experience. Admittedly, when walking around on my travels, I look unnervingly like a tourist with an expensive toy. So many people have stopped to warn me to be careful with my gear. It's enough to make you a little nervous… Until I see the pictures I'm getting, then I remember that quality shines through.
Sony FE 55mm f/1.8 ZA (from Studio Varustamo)
In comparison to the above 35mm lens, this lens feels like a toy. It is much smaller in size, the build quality is less tank-like and it fits nicely on the body to give you quite a discreet package. The image quality is superb and I find myself using it a lot. My only complaint with it is that I often find myself wishing it would focus a little nearer than 0.5m. I've had this problem with other lenses, namely the Canon 85mm f/1.2, but it didn't stop me using that lens. All relationships have areas that need a little give and take. This is one of those.
Sony FE 90mm f/2.8 Macro (from Studio Varustamo)
It's getting a little silly now. I've already stated how sharp the 35mm and 55mm Sony FE lenses are. This 90mm macro lens is also ridiculously sharp. Being mainly a fashion and advertising photographer, working with people, I am not usually a macro lens shooter. As I am getting to remember to imagine the world this close in, I am loving the way it allows me to capture images outside of my normal point of view. It is a beautiful way to see the world and I'm excited about doing more of it. This is one of the reasons for having chosen to take a new camera system away with me on this trip. There is something about forcing yourself outside of your comfort zone that makes you re-assess what you know and to look at things in a new way. This 90mm lens is helping with that and is a joy to use. Not only is the construction excellent, the ability to click in and out of auto / manual focus is great for making macro work less fiddly, which can only be a good thing. And it's also a fantastic lens when not using it as a macro, with great OSS for sharp handheld images. I can't recommend this lens enough.
These are the only lenses I've taken with me. On some occasions, I could possibly do with a wider option than 35mm and something with a longer reach than 90mm, but you can't alway have everything you need at all times. That would just be greedy and stop you having to find an alternative solution. Restrictions to creativity are what they are and are there to be surmounted, one way or another. Then again, when those lenses do appear on the FE map, I would imagine I'll be in the queue waiting to collect mine. Until then, I'll shoot with what I have.
Feisol CT-3442 Tripod (from Foto-Weiss)
I wrote a more detailed post behind my reasons for choosing this tripod in this post here. Having the right tripod for the job makes one's life a little easier. None of my studio tripods would have been pleasant to carry around with me. At the moment, the tripod is still relatively untested. I'm heading out in the next couple of days to the Salar de Uyuni, the slat flats in southern Bolivia and am hoping to get some great night shots there. Then I'll know whether I've chosen a great tripod. I'll update this and the tripod post accordingly.
Video Rig (from various)
This is a little 'franken-rig' I put together before I left from various bits and pieces I already owned. I took a few bits from my RedRock Micro kit (two handles, two short rods, part of a handle extension), attached them to a Kessler Crane quick release plate with a couple of allen key bolts, and ended up with a very good portable rig. It works very well, goes together in seconds, attaches to strap and hangs by my side till needed… It's a working system, with a small footprint, couldn't be happier.
Evoc CP 26L Camera Bag (from Varuste.net)
This was the camera bag that came highly recommended by photographer Valtteri Hirvonen and, seeing that he spends a lot of his time shooting in the great outdoors, he reckons this is the best bag he has ever owned to suit those needs. I've been using mine for a couple of weeks now and I get what he's talking about. It's a great design, and having the daypack area is so useful. On the trek to get up closer to Mount Fitz Roy in El Chaltén, the bag was in its element, with the belt support taking the weight off my shoulders when backpacking for hours. When you're travelling, you need stuff to hand that is not always photographic gear and the 15″ laptop fits snuggly away too. This bag is working out as a very good addition to my gear.
Thinktank Wired Up 20 Camera Bag (from Studio Varustamo)
Something I knew I'd need when I prepared for this trip was a smaller second bag I could use when I'd arrived at a destination for a few days and only wanted some of the gear with me. It's not in the gear photo above but I've owned this Think Tank bag for a few years now and it's on this trip that it's really come into its own. I love how I can criss-cross the straps over each shoulder and then take the weight onto my hips by tightening the waist belt. I can walk around all day with this bag, the gear easily to hand in my front, and feel good at the end of it because the weight has been distributed evenly over my body. With a couple of well-placed carabiners, I can also make the zips sufficiently awkward enough to undo, which is always useful when travelling. I had a look for this bag on Think Tank's own site but it seems that they don't have it anymore. They have variations but I don't know them so can't say if they're improvements. It's the two straps and the waist belt that make it special.
Lee Filter system (from Fimeko)
I've had a Lee filter system since pre-digital days. They're easy to attach to the end of a lens with the right adaptor. Check out the Little and Big Stoppers, 6 and 10 stop top quality glass ND filters. A variable ND filter is another option but this works for me. I have the adaptors attached to the lenses when I know I'm going to be shooting video and can quickly swap the filter over to each lens in seconds.
WD My Passport Ultra Hard Drive 3Tb (from computeruniverse)
You need a lot of storage space for archiving. These two 3Tb drives will provide enough to keep me going for a while. I'm having to edit quite aggressively to try and make sure I don't run out of space, but that can only be a good thing so I don't get any more swamped with material.
Samsung Portable SSD 1Tb Hard Drive (from computeruniverse)
This is an absolutely tiny SSD drive with a USB3 port that is fast enough to edit on. That is quite a sentence right there, take it all in… Not a bad bit of micro-engineering. We live in interesting times.
Zoom H4n Audio Recorder (can't remember where I bought this)
I've had this recorder a while. I know what it can do and what it can't do. For professional sound it needs some good pre-amps in front of it, like my lovely Sound Devices mixPre-D, and some good mics. But it will allow me to have a record of any interviews I may do and capture some good ambient sounds. It'll do what I need it to do.
Other bits & pieces
Op/Tech Rainsleeve – a reusable plastic bag with a draw cord that tucks way very nicely till needed, what's not to like. I brought four of these little things with me and have already been caught once in the rain and been able to keep on shooting. Invaluable. I don't care how weatherproof a system is, it's always a good idea to keep the heavy showers off.
Headlight – always good to have a light for those moments you need your hands and can't see a thing.
Business cards – they have the FHaB logo, my name and the website address. If I'm going to ask people if I can photograph them, I think it only fair that they have the info on how they can see the images later.
First Aid Kit – headaches, grazes, cuts, plasters, disinfectant…
4 x 64Gb Sandisk Extreme Pro SDXC U3 cards – you need the right cards to be able to shoot 4k internally. These cards do the trick. There are others.
Raincoat – again, just because it's raining, shouldn't mean you have to stop shooting.
Wacom Intuos Photo tablet – it's not in the photo and it isn't as nice as the one at my desk but it packs away nicely and helps with the editing on the road.
Kindle – always good to have something to read on the long journeys.
Leatherman – I have it with me but I'm a little wary of carrying this around on me in a foreign country so it usually lives with my main bag, which is not particularly useful.
And I think that's about it. The system is working really well and I haven't found myself in a situation where I wished I'd brought something along. I'm able to adapt my set-up to most shooting situations. Looking forward to some night shots in the Salar of Uyuni. Must make sure I'm comfortable with the Remote set-up with my iPhone and then I may even get round to using the torch to light certain elements in my long exposures… All exciting stuff. Any questions on the gear, let me know and I'll see if I have the answer. Bye now, it's Friday night in Córdoba, Argentina, and I have some friends who are going to show me the town. Should be fun!
Tim Maher
December 18, 2015