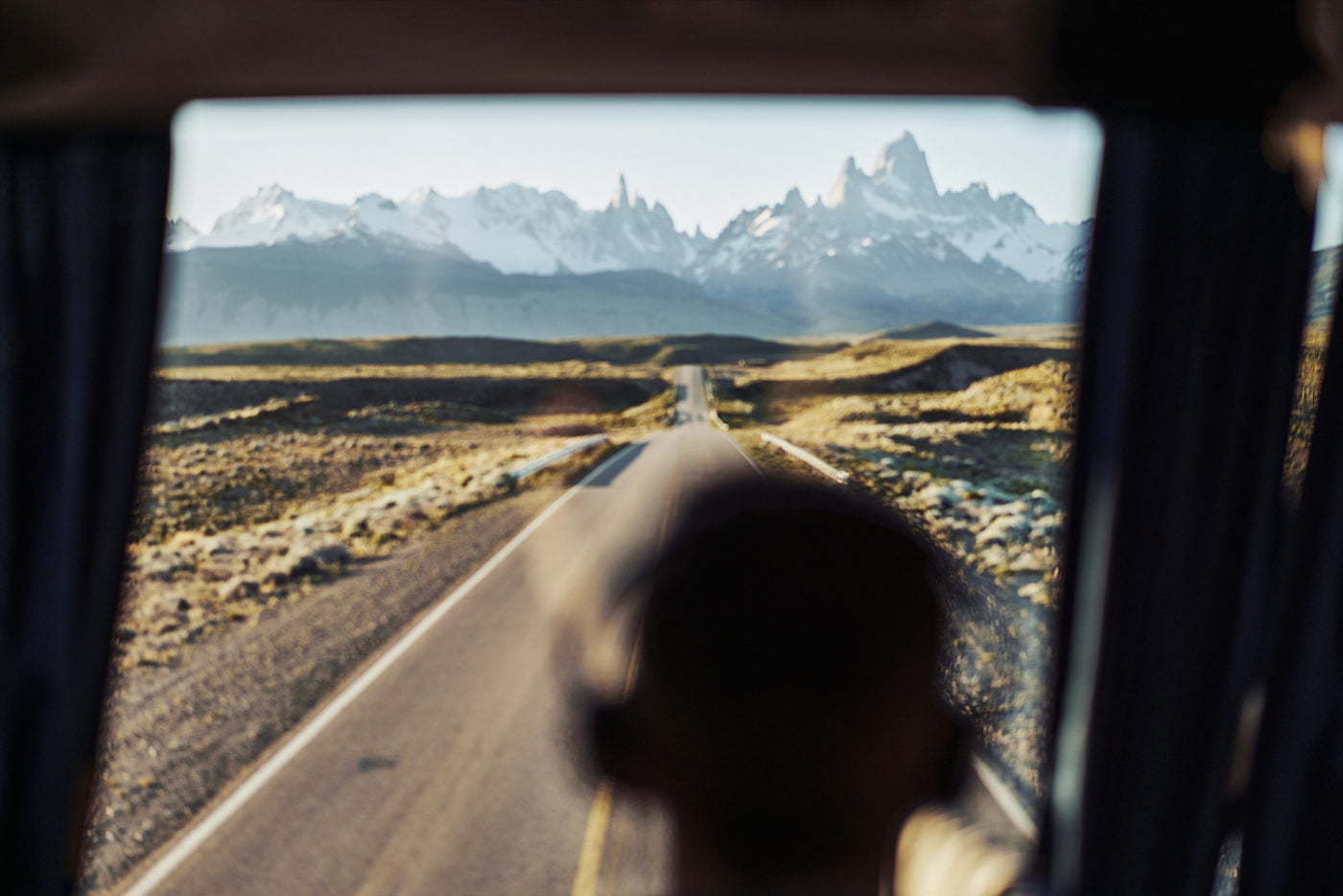 Getting to El Chaltén
The bus journey from El Calafate to El Chaltén only takes about three hours and I would suggest doing the journey when there's still enough daylight around to experience the spectacular scenery, with the mountains starting as a small detail on the horizon until they fill the frame and tower over you. 'Imposing' would be a suitable word to describe them and I'm glad that there are people out there who love to climb these immense peaks but I can safely say, from the comfort of my chair, that I am not one of them. I have quite enough dealing with the absurdity of life without adding to it by dangling from the end of a rope.
The sun had disappeared behind the mountains when I arrived and the light was all but gone by the time I checked into my hostel. A quick chat later and I already knew which hike I'd be doing the next day, the 'Loma del Pliegue Tumbado'. There was time for a quick wander round town before the light disappeared entirely, then I settled on a restaurant bar whose name escapes me now but which had a fun atmosphere and got the job done. Tomorrow was going to be a big day and I needed to get plenty of rest.
The chapel is to commemorate the climber Toni Egger, who lost his life in 1959 trying to scale the vertical face of Cerro Torre. It's a beautiful little chapel and never a bad idea to be reminded that the great outdoors in these parts of the world can change their mood very quickly. I was lucky to be there on a clear blue day with little wind.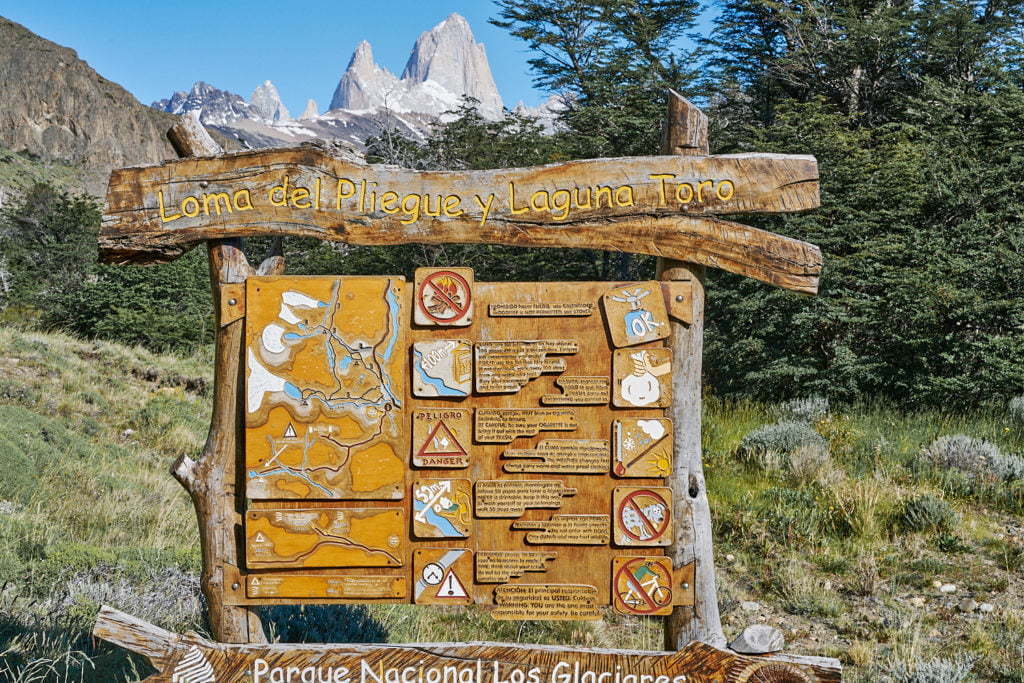 The 'Loma del Pliegue Tumbado' was the favourite hike of the person who checked me in at the hostel the night before and it seemed like she knew what she was talking about. The hike takes you up high so you get a great view of both Mount Fitz Roy and Cerro Torre peaks. These are two peaks that are rightfully part of climbing legend, which explains why you'll find quite a few hardened climbers in El Chaltén.
For the less vertically-inclined amongst us, the beauty of the surroundings has also been extended to include some awe-inspiring treks. That's Mount Fitz Roy in the back of the shot above with the sign, the peak looking much less confrontational than usual, when the winds are blowing hard and and the clouds are coming in fast.
I set off at around 8am, with my packed lunch, water bottle and camera gear. Today was going to be a video day, I decided, so I was mainly using the Sony A7sII, set up on my 'porta-rig' and with a Lee filters 'Little Stopper' on the end to help cut down on the light hitting the sensor. The trek up is estimated to take about 4 1/2 hours and, with all my stopping with a camera, I would say it took me about six to reach the top. There's an extra part you can do when you get up there that takes you that little bit higher and, even though I was feeling like I'd put quite a lot of effort in already, I decided to give that final stretch a go. It all started off okay until I was about 50 metres from the top, when it got just that little bit steeper and I needed to use my hands to counteract the weight of the camera backpack behind me.
That slight change in angle was all it took for vertigo to kick in. Luckily, I was aware enough to realise that my frantic scramblings to get over the last 50 metres were soon going to degenerate into panic. I sat down where I was, removed my heavy camera backpack and lay flat against the ground. It didn't help much that the angle I was at meant I was still closer to vertical and could see the majestic panorama before me. I suppose I was amused by the absurdity of a condor coming across to hover less than 5 metres above me. Yes, they do look big close up and are very good at using the air currents to remain motionless. And, no, I did not release my death grip on the rocks either side of me so I could take a photo. I've no idea what the white-feathered hawk-like bird was that came to join it but it too decided that my feeble hand waving indicated I had not yet reached easy prey stage. The sight of it barrelling passed me in fighter jet mode shortly after was admittedly impressive but, frankly, unhelpful to my predicament.
The kindness of strangers is a wonderful thing. A passing group thought it unusual that I had stopped where I had and approached to ask if I was okay. I answered honestly, they decided between them that the situation was under control, that there was nothing physically wrong with me and they offered to help on the way back down. I suppose I sat there for about 45 minutes. I took my cameras out, cleaned them, took a few pictures, all normal stuff to convince my body that all was indeed well. I ate my packed lunch, no easy thing when your heart is hammering away and your saliva has all dried up. A young French woman from their group was the one who took control of the situation.
"Are you the man my friends told me about?"
"Yes."
"Well, you know you can't stay here all day."
"Yes."
"So, let's go. I will walk behind you."
A wise course of action, as I would be unable to grab her if I lost control. She constantly asked me questions to keep my mind occupied and told me not to stop. The difficult stretch was over in about three minutes and then all was back to normal. I thanked and hugged my rescuers. I sat on a rock overlooking the majesty of El Chaltén and waited for the light to soften. I had not so much conquered my fears as managed them, which was okay. The sight of children barely in their teens and adults much older than I being able to walk along where I was unable to go will maybe give an insight into vertigo. It's just the way it is, your balance goes, your muscle strength goes, your breathing gets rushed, best to stop and assess.
I was the last one up there and slowly made my way back down. It was breathtaking, it was emotional. I was physically drained both by the climb and the effort it takes to constantly stop and take pictures. A trek that usually takes four and a half hours to ascend and maybe two and a half to descend ended up taking me fourteen. On the way down, I met another stranger going the other way. He was going to camp out for the night, do some astrophotography… He had an inner calm. I took note and we both moved on. I may be a little wiser now.
Out and About
The following day, there was no way my body was going to allow me to take on another trek. I walked around the 'town' and snapped a few pics. I'm beginning to realise that I don't really do your typical travel photography. I'm not quite sure what it is that I do but I'm sure it will become clearer as the journey goes on. Landscape photography requires a concerted effort to be in the right place at the right time, which is a little difficult to achieve when rushing from one location to another. Nor do I like taking snapshots of myself at each and every point of interest on a map. I'll put some thought into it and see if I can come up with a description before the end of the journey. Here's a few images of El Chaltén to start with…
Tim Maher
December 12, 2015