Photo of the Day: Flower Detail and the Sony 90mm Macro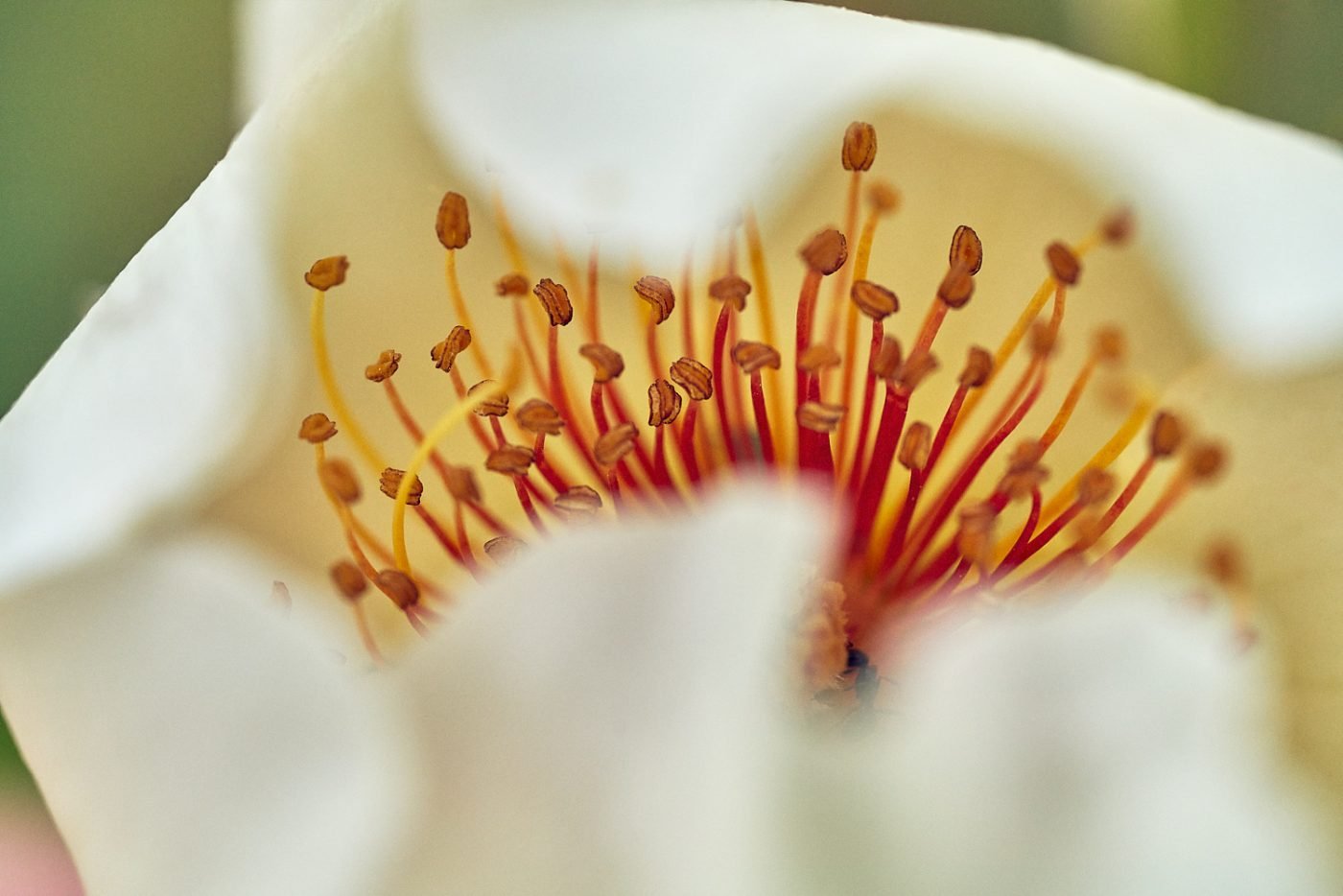 Sony A7RII : f4@1000th : ISO 640 : EV -1.3 : FE 90mm f/2.8
It's time to talk a little about the Sony FE 90mm Macro G OSS lens. Macro work is not something I do much of in my regular work environment so I was keen to take it out in the field and put it through its paces. With this in mind, I spent a morning walking around a park in Mendoza, Argentina, with my A7R2, photographing flowers. Actually, it would be more accurate to say I shot flower details, mainly roses, some in full bloom, some dried out, others yet to blossom. All the shots, including the one above were handheld, and I ended up with a pretty good collection of images for a morning's work.
The image above is of a small flower (to give an idea of size, that black bit in the lower mid-right part of the image is a small ant) and I can't believe the detail I can see on the stamens.  And, just to make sure we all understand the impressiveness of the sharpness, I am holding the flower still in the wind with one hand and shooting one-handed. That bit of pink you see in the bottom left corner is part of my hand. I know I'm shooting at 1000th but I still think it's impressive and kudos must be given to the stabilisation built into the lens, which works together with the A7R2's in-camera stabilisation to produce exceptional results.
I first set the focus point manually, held the flower still, then adjusted my position to when I could see that the stamens were sharp. So, yes, the EVF is more than good enough to be able to see when you're in focus. I struggle with seeing well close-up but, with the diopter adjusted correctly, I had no problem. I could have used the focus peaking function for added security but composition is such a fine line in macro work that I find the peaking interferes with my 'compositional eye'. Much better just to trust your own eyes and adjust your position accordingly.
The ability to switch in and out of manual focus without having to release the lens is another great feature. Even though I have the function easily accessible on one of my custom buttons, it makes macro work very seamless. When even holding your breath is an important part of the process, you don't want to be fiddling with buttons at the same time. Basically, I am very impressed with the design. Add the fact that the lens is incredibly sharp and you have yourself a winner!
Because the macro world is new to me, I sometimes go out with it as the on-camera lens, just to try and encourage that part of my visualisation. I have had great results with it in some of the many markets in South America and will be posting those to a gallery too, as soon as my post-production self catches up with my shooting self. As a final word, the most important thing I can say about this lens is that it has added even more to my enjoyment of photography.
Tim Maher
January 19, 2016