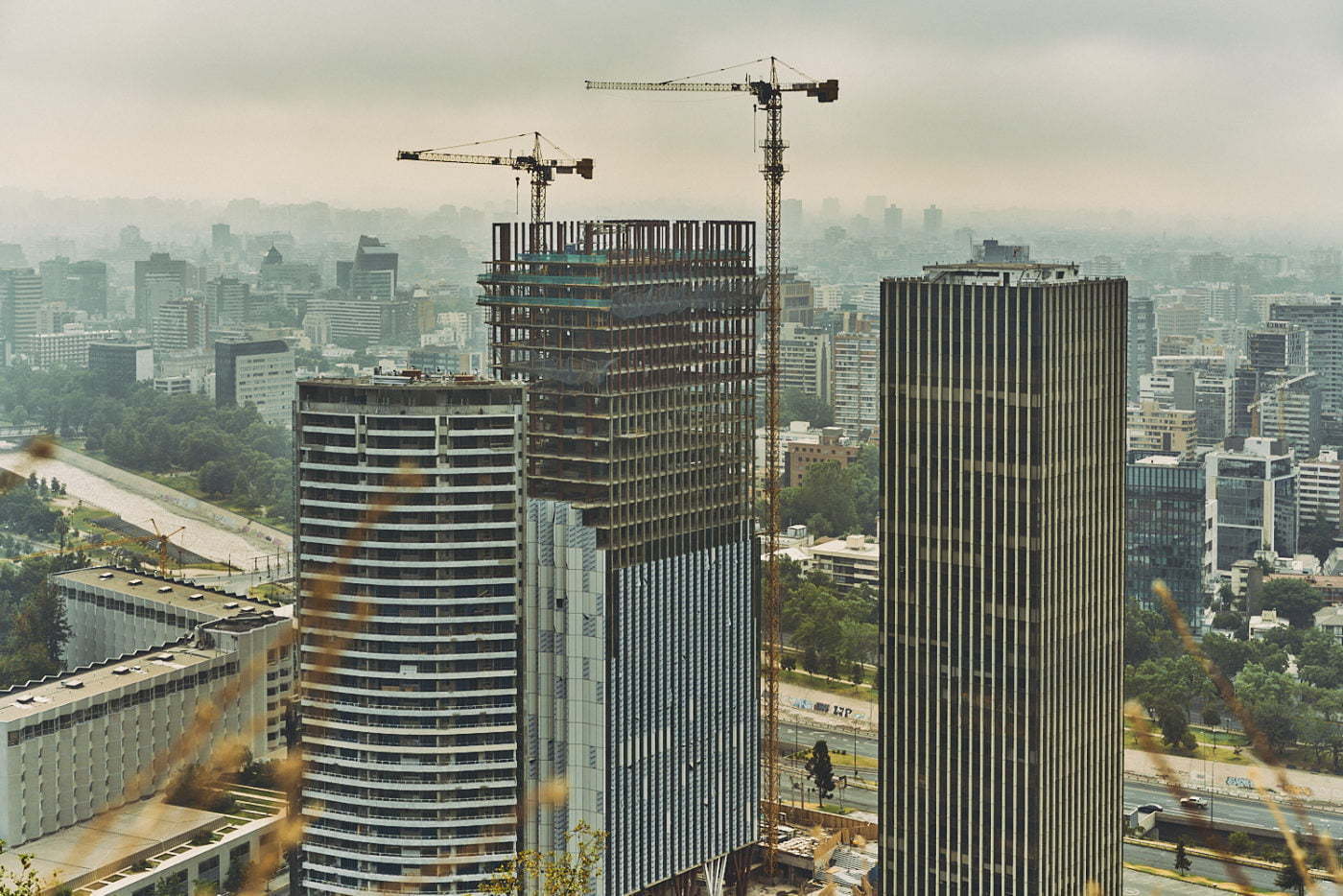 My first visit to Santiago was when I was fifteen years old, on a family ski trip to the resorts of La Parva and then Portillo. Good skiing, great après-ski, amazing views, incredibly strong sun at that altitude that I remember burnt my exposed neck worse than I've ever been burnt before (imagine an oozing turtle-neck skin!), it was a good time to be an irresponsible teen. My visit this time was a little less exclusive, arriving bleary eyed on the overnight bus from Puerto Varas in the early hours of the morning, falling into a taxi and heading off to my next reasonably-priced AirBnB accommodation in the Providencia district, with working wifi!
As South American cities go, Santiago doesn't feel particularly dangerous and I always felt comfortable wondering around and using the metro. My first night there, I headed out to Barrio Lastarria, an area with plenty of bars and restaurants to choose from, and found the perfect place to have my first Pisco Sour cocktail, at ChiPe Libre. One of the age-old arguments is whether pisco originated in Peru or Chile, with both countries claiming it as their national drink, and I liked the way ChiPe Libre played on this issue by proclaiming themselves a part of the 'República Independiente del Pisco'. And, yes, when you're a stranger in town and you're sitting alone at a bar, it's okay to bring out your camera and play around with the macro capabilities of the Sony FE 90mm f/2.8 lens. Look at the detail of the foam on the edge of the glass, handheld! The colours come from the glowing neon bar surface, not from anything funky I've done.
The next morning I set off to the Mercado Central, something I regularly do when arriving in a new city. There's something about an old-style market that always makes you feel welcome and I love to see all the fresh produce on display. Maybe it's a habit I picked up from my days living in London, a city with a whole history of markets. A downside when you're travelling is that you don't have a well-stocked kitchen to go back to, so you're restricted by what you can buy. Luckily, Santiago's main market has a lot of little restaurants dotted within the market area and I eventually allowed myself to be enticed into one of them. I had myself a delicious seafood soup, a dish that is always near the top of my list when surrounded by market-fresh seafood. The musical accompaniment from the man with the guitar was extra.
I spent the rest of the day on foot, starting with the Museo de Bellas Artes just a few minutes walk away. I have to admit that I can't remember anything about its contents, except that they had a very nice café in there. It could be that I have a terrible memory, or that there wasn't much on show that left an impression, you decide. A quick detour led me to the Cerro Santa Lucia for a scenic walk with pleasant views of the city. You may wonder why, as a photographer, I have few to no photos of these places I'm mentioning. It's possible my work has made me into a visual snob and I'd rather not take a picture just for memories sake.
This brings me nicely to the Costanera Centre, a place that many people strongly suggested I visit when in Santiago. It has some pretty impressive stats, having the largest mall in all South America and, with the Gran Torre Santiago at 300 metres, it also has the highest building on the continent too. Santiago is rightly proud of their architectural shopping cathedral and, don't get me wrong, I like to do a bit of shopping as much as the next man. There's just something about the vastness of the Costanera, full of its international brands that you can find in any affluent middle-class part of the world, that was simply overwhelming. I backtracked swiftly and headed for the hills, in this case the Cerro San Cristóbal.
Here's an easy bit of advice, when a security guard tells you that it is not a good idea to be heading up the 'cerro' as nighttime is falling, listen to what he has to say. Don't do what I did, deciding that getting a picture of Santiago as the sun is setting is more important than your own safety. As the cyclists on their racing bikes belted down the steep curves for their last run of the day, I kept on thinking that I must reach the top soon but there was always another turn up ahead. I may also have been fooled by the fact that the sun sets a lot slower in Helsinki than it does in Santiago. I managed to get this shot of the Gran Torre before the light disappeared completely and I eventually came to my senses when all I could see was the road disappearing into the pitch blackness, probably round another curve. I turned and fled back down, with the fear of the unknown spurring me on. The security guard was more amused than relieved when he saw me reappear sweating and panting at the bottom. I let him know he'd been right, asked where the nearest metro station was, twenty minutes walk away, and my nerves were too shot to accept the lift from the stranger in the passing car. Serves me right, a lesson learned.
Then again, did it stop me getting up before first light and heading off to the 'cerro' the following morning from the Bellavista side? No, it didn't. And did I listen to the security guard here when he also warned me that it was too dangerous? No, again. And I took the disused path that he told me wasn't safe. All I can say in my defence is that it turned into a great walk, with me being greatly relieved when I realised that the noise coming up behind me about an hour into my walk was only a couple of off-road cyclists. I'm not sure who was more surprised. There's quite a maze of paths up there, once you head off the beaten track, and it doesn't take much to imagine that there are probably quite a few crazy goings-on when the lights go down and you have the whole city at your feet.
Obviously, in the three days I was there, it's impossible to do justice to any city, let alone a capital city like Santiago that is going through a bit of a purple patch and is enjoying showing off its stability and growth with a bit of architectural expansion. I had a great night out listening to a trumpet, double bass and drum trio at the Thelonius Jazz Club in Bellavista; I can recommend the Sanguchería José Ramón 277 in Barrio Lastarria for a quality quick bite to eat… And I'm not sure how Santiago can solve their air pollution issues when they are surrounded on all sides by mountains that trap the fumes from all the ubiquitous cars. Bring on the technology!
I had an apartment booked for my next destination, Valparaiso, and was looking forward to checking out all that colour and experiencing some of the good vibes that I'd heard about the place. Unfortunately, the owner had to cancel at the last minute, I ended up worrying about running out of time on my journey, changed direction and headed back across the border to Mendoza in Argentina. It's another one of my regrets that I didn't get to see Valparaiso. No matter how much time you give yourself, there's never enough, make your choices, move on. At least I escaped being made into a human 'piñata' on the slopes of Cerro San Cristobal and came back with some nice enough shots!
Tim Maher
February 26, 2016