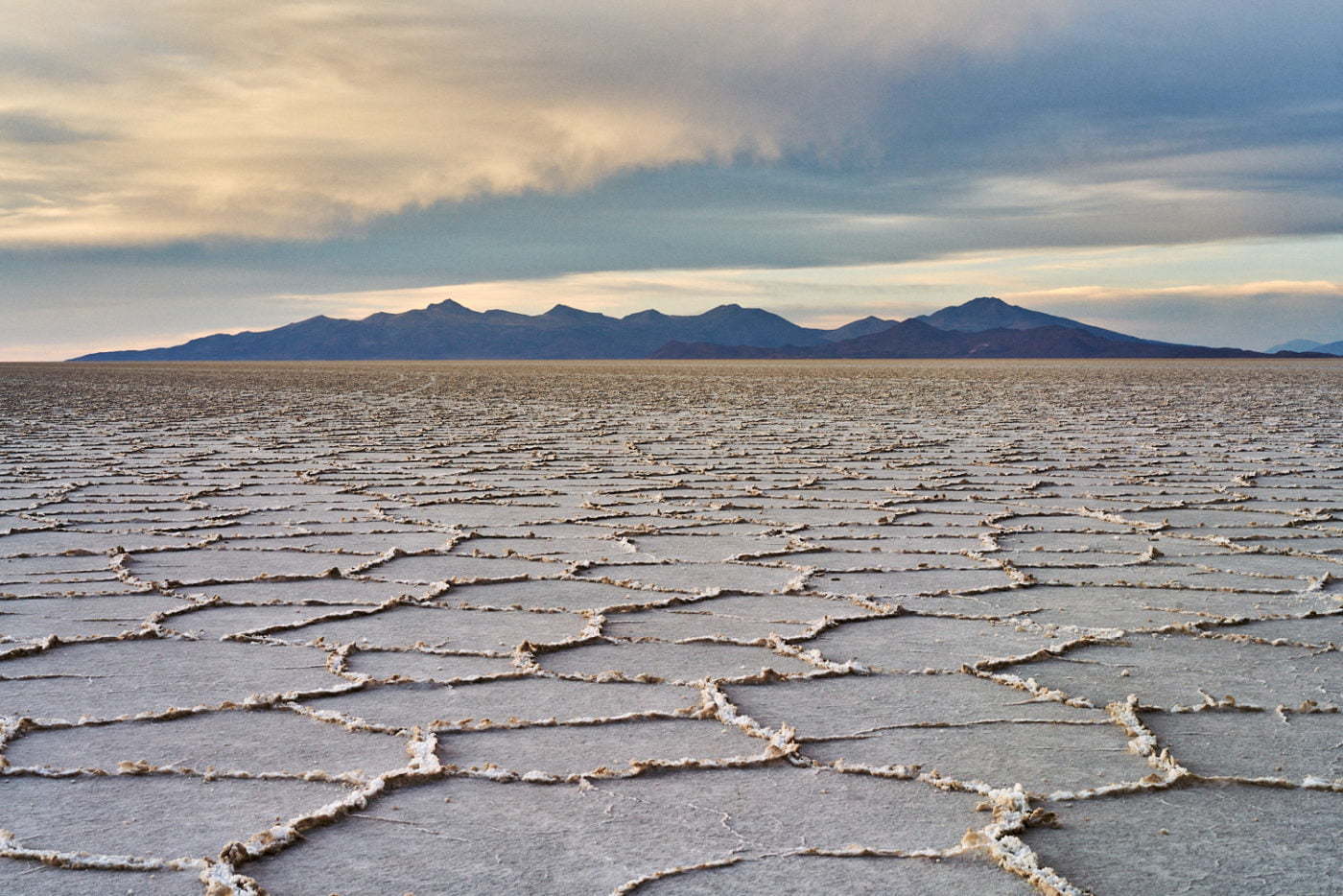 When doing a tour of the Salar de Uyuni, the salt flats themselves are only a small part of what you get to see when you visit this spectacular corner of the world. I'd heard a lot of good things about the amazing landscapes up in this part of the Bolivian altiplano but it is only when you experience the variety unfolding before you that you start to get a clearer picture. As a commercial photographer, I have travelled to many beautiful locations and this experience has got to be right up there with the very best, with New Zealand's south island as the only possible contender that I have experienced for its sheer variety. I think the only way for me to try and do justice to it is if I go through a few of the images in some kind of order and see what memories they stir…
This is where it all started, in Tupiza, a small town not far from the Argentine border. It had been recommended to me by various travellers as a more pleasant alternative to the tours you could book out of the busier towns of Uyuni or San Pedro de Atacama and, since I was heading northwards from Salta, it was an easy decision to make. La Torre Tours and Hostel had a room available when doing my last minute booking and I can happily recommend it as a cheap, clean place to lay your head. Their tour office is right there in the hostel and it was easy to get all the information I needed to help make my decisions. I'd also heard good things about Tupiza Tours that operate out of Hotel Mitru further down the road; the pricing for the tour was very similar and my choice was based solely on availability. I'd intended to spend three nights here before setting out so I could acclimatise to the altitude, but La Torre had a space available leaving the next morning so I decided to take my chances.
Getting ready to go off the grid for a few days didn't take long, with spare water, some dried snacks (if you have a plastic container, fruit is also good; I mashed mine badly within the first day!) and toilet paper all easy to find. Coca leaves are something that is often recommended to combat the effects of high altitude but someone else also suggested 'pupusa' leaves and they were a little harder to source. My altitude experiences were quite typical so I'll put down what worked best for me. I found that I always woke up in the mornings with a headache, which I unscientifically put down to a lack of oxygen from my regular breathing habits in my sleep. Some deep breathing before getting up, followed by a tea of the pupusa leaves, would usually get rid of the headache and slight sense of nausea. Before we got going, I'd slip a wad of coca leaves between my gum and cheek, like you would with tobacco (not that I have ever chewed tobacco, but I'm pretty sure that there isn't much chewing going on). The trick is to keep that wad there for a long time; I'd happily go for a couple of hours, letting the saliva do its work, and would repeat this process at least three times a day. This system worked for me and it wasn't long before the whole group was 'wanging' a frisbee back and forth in the great wide open of the Bolivian altiplano.
The frisbee came courtesy of another Tim in our group; there were four of us travelling together and I'm not sure how much it has to do with luck but we all just got on so great. Emily was travelling together with Tim, and Abel was another solo traveller like myself. An added bonus is that we all spoke Spanish and were constantly mining our driver, Hugo, for information. I now know that llamas and alpacas are domestic animals, vicuñas are wild, and that they can go for two days without water, which is very important when in the middle of a long dry spell caused by the effects of 'El Niño'; that the phrase 'f***ing like rabbits'  should be changed to 'f****ing like llamas' (I've never seen so much action in a corralled space!); that global warming is having a noticeable effect, with a lack of snow, except on the highest peaks, and the subsequent lack of snow-melt causing big issues for all flora and fauna, which in turn impacts the farmers; that there are still individuals mining the land way up here for gold and able to scrape a living; that the president, Evo Morales, is much loved and has had an enormous role in re-asserting Bolivians' pride in their country but that there is concern that the politicians that now surround him are once again looking to line their own and their cronies pockets; that changing the constitution to allow Evo to serve a third term should not automatically be assumed to be what's best for the next chapter in Bolivia's development; that all the different colours in the lakes come from high levels of various minerals and that the reason why one of the lakes has no wildlife, not even flamingoes, is because of the levels of arsenic in the water…
Having kids of my own and being the oldest in a confined space, it wasn't long before my nickname became 'Dad'. One good thing about the high altitude is that they quickly ran out of breath chasing each other, I just had to try to contain the constant fighting between Junior and my other favourite 'son', Abel, till the doors of the Land Cruiser opened. Man, they made me laugh!
This is what the land looks like as you first make your way out of Tupiza and start to climb. I may have exaggerated the colours a little but I kind of liked the old Kodachrome effect I managed to achieve. We'd only stopped here because of an accident on the road between two tour vehicles. Luckily nobody was hurt but it reinforced early on all those stories you hear about putting your life in the hands of crazy, hungover tour drivers. Over the course of the tour, we certainly came across some 'pedal to the metal' drivers but, thankfully, Hugo had better things to do with his time. Either that, or his wife, who also doubled as our provider of delicious local food, brought out his better self.
The first day was the one where we covered the greatest distance, spending a lot of time in the car, but not so much that it felt like a struggle. We stopped for a lunch in a small settlement, then headed off once more into the endlessly changing landscape… We'd been warned that the accommodation during the tour was going to be basic, with limited shower opportunities and one dormitory room per occupants of each vehicle. This meant that there was always a communal space where everyone gathered for the evening, to eat, drink and share experiences. When the generator shut down for the night, it was literally lights out, leading to a version of the Walton's 'Goodnight, John-boy' moment, although I think I may have been the only one old enough to remember the TV programme.
An early start the next morning, with the mural the last thing we saw as we headed out of 'town'. We came across this guy working away on a dried out lake-bed in the desert sun. It turns out that he and his buddy were students raising some extra cash during the summer break to pay for their tuition and that they're not harvesting salt, as we presumed, but borax.
I've just put together a quick lores stitched panorama that I'd forgotten I'd taken (handheld, another quick exit from the car), made up of about 5 images. If you imagine that the scene carries on like this for a full 360 degrees…
We lunched on the edge of a lake, with one of Bolivia's many dormant volcanoes dominating the background. When the clouds come in and the wind picks up, you notice the cold very quickly. So we hit the road once more and headed to our next destination, the promised natural thermal baths! Imagine the excitement of jumping into a huge hot tub in the great wide open and the relaxation that comes over you as you survey the world not so slowly changing before your eyes. You really could see the clouds rolling in over the horizon, creating a truly bleak elemental landscape. Yet again, the rain did not reach us. Unfortunately, by the time the sun disappeared behind the clouds, I'd already managed to burn my stomach and thighs. I'd been smart enough to put sunblock on from my shoulders up but that sun is mean in those high altitudes and the water merely refracted the rays back on me below the waterline. Live and learn!
On the way to our layover for the night, we checked out some geysers and one more lake. I have pictures of it but, to be honest, my images just capture a small part of the whole and don't do justice to the surroundings. What still amazes me is the amount we saw, all in one day. Personally, I was so moved by my experiences that day that I had to take a long moment to myself looking out of the car window so as to not be overwhelmed by it all. Truly magical and, to cap it all, it was xmas day!
Day 3
We set off not so bright but early the next morning, first to the unusual rock formations found in the Siloli desert, the most famous (or most photographed) being the Rock Tree you see here. This was also the location of one of our more epic frisbee sessions, a great spot for it and I think it signalled the moment when we were all pretty much over our altitude issues. There were at least two more lakes, both with very low water levels again. You could almost feel the land and the animals straining for the rainy season to finally begin. The bright coloured hotel takes you by surprise after roughing it for a few days and was a very popular gathering spot for travellers. I believe the WIFI sign acts like a beacon to all those who have suffered from being offline for a few days. "Have you got wifi?" must have become one of the most common expressions in all bars, cafes and restaurants around the world. And thrown into the mix are a few random landscapes picked up along the way, almost nonchalantly.
Day 4
The final day! This was the earliest start, something like 3am if my memory serves me right. We needed to be on the salt flats of the Salar de Uyuni at daybreak and we made it. After we'd got our morning shots (including the much-copied perspective-defying comedy ones), we headed to Cactus Island for our final meal at the tables set up there. A short pit-stop at the Hotel Sal and then we left the salt flats behind. The train cemetery was our final destination before being dropped off at the town of Uyuni. The doodle 'To Travel or to Die' was in the engine room of one of the locomotives. A fitting end to our epic journey.